Design and Technology at solidThinking Converge LA
At the opening for solidThinking's Converge conference the CEO of Altair, Jim Scapa, introduced his company and it's subsidiary solidThinking as "A powerhouse in simulation and product design". Altair certainly has the simulation expertise  but Scapa also highlighted how many graphic designers and industrial designers are now on staff. It was that end of the business that was on display over the two day event, held at the Skirball Cultural Center in Los Angeles.
Speakers ranged from academics, doing research in materials science and fashion designs, to the lead designers of Fiat/Chrysler and the CEO of a visual production company on blockbusters such as Ironman and Avatar.
Also noted was how expansive of a product line Altair now manages. Businesses that included a lighting company (Toggled) and a competitor to Spotify and Apple music (Weyv) that is launching this fall all in complement to the simulation tools, including the newly launched cloud-based Inspire topology optimization.
This might seem like an odd collection of products, knowing that the core of Altair is focused on optimization modeling, but when you think through the resource constraints of things like lighting it starts to become more clear how optimization can apply.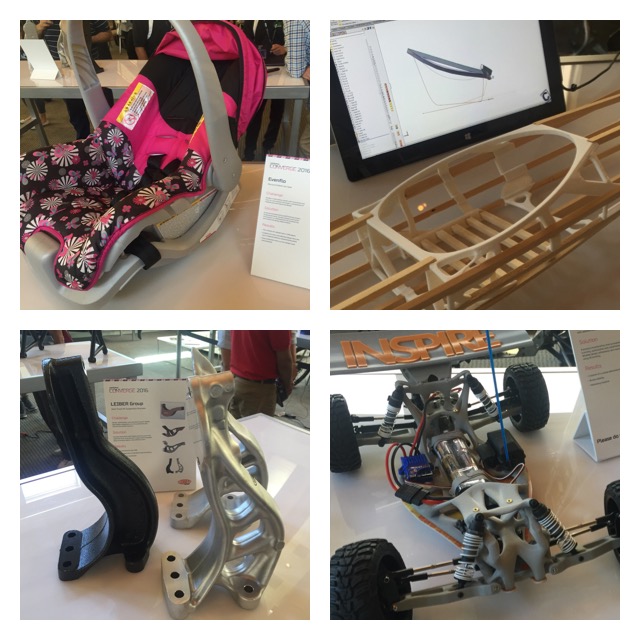 Altair's customer based is already in nearly every field. Gone are the days of seeing Aerospace brackets as the only sample of topology optimization tools. The partner area had the classic plane bracket, where weight reduction tranlates into significant fuel savings, but it also included samples of baby carriers with improved strength. Any parent who's lugged bags of stuff along with a small child the weight reduction in this is non-trivial as well.
Biomimicry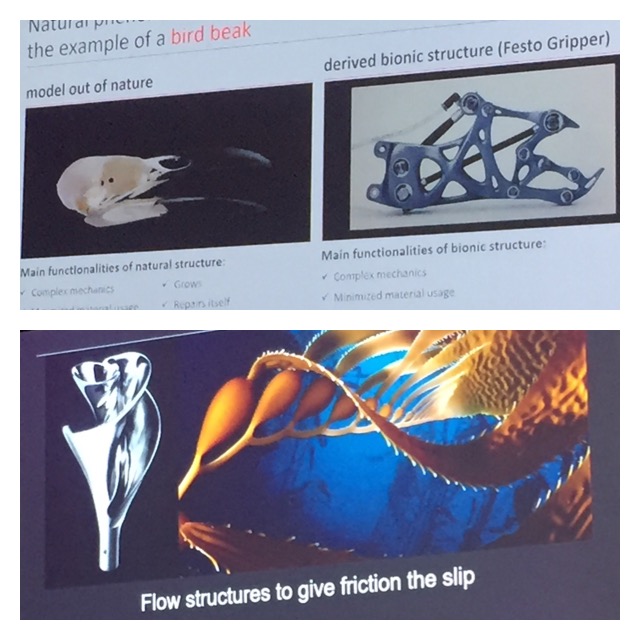 One of the major areas of design focus at the conference was Biomimicry, the process of sampling design techniques from nature. Everything from a bird beak to sea kelp was brought up as leveraging the design process of natural selection for amazing results.
Additive Manufacturing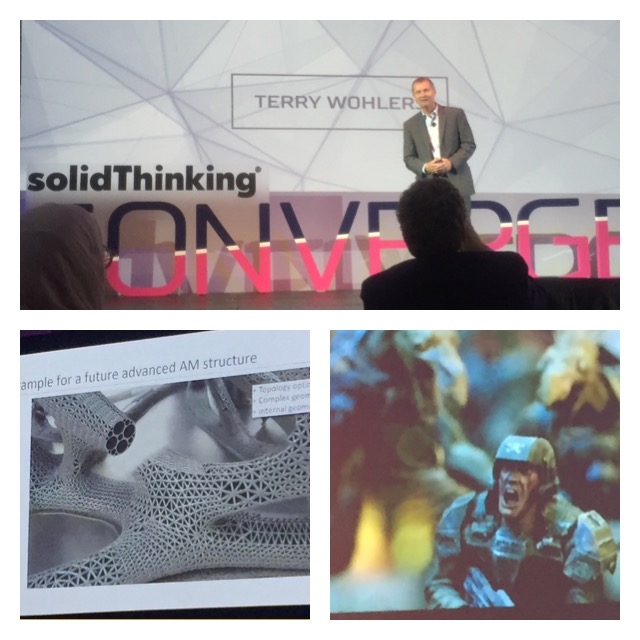 The second "track" of presenters at the conference was focused on 3D printing and additive manufacturing. Track is in quotes since this process was undeconverge rlying in nearly every talk, even if it was not showcased front and center which was obviously the case when hearing from one of the corporate sponsors of the event, EOS.
Industry veteran, and author of the leading market research report, Terry Wohlers, kicked off the additive manufacturing talks with a summary of the market. He had some great insights including how important a role software companies will play in the. According to Terry "Design software and tools are key know-how in expanding the technology." With the number of 3D printing machines manufacturers growing quickly (Terry claims there may be more than 1000 OEM in China alone) the focus for him is on the applications, designs, and users who can unlock new features.