Smarthome Getting Started: TP-Link Wifi Plug Adapter Review
After getting Alexa up and running on the raspberry Pi the next tasks was to start adding control around the house. With an anticipated move coming up I wanted to check out the various things that could be connected and find out which match my desire for low cost and easy to operate. Ultimately the goal is to find the most reliable components and technologies and know to to efficiently combine to elicit one of three responses from my wife and daughter, "Cool", "That's really useful", "Oh can you make XX do YY too?".
The reddit forums refer to this as the WAF, or Wife-Approval-Factor. On my end this also means that if someone "breaks" it is still functional. Kind like an escalator becoming stairs, if an automated portion of the home goes offline even an untrained guest should be able to intuitively figure it out.
Accessibility of troubleshooting as well as reconfiguration when things change is key. Swapping time flipping a switch for time spent messing with router settings does not make the IoT smart, it makes it a hassle. Of course I am one to tinker with router settings from time to time as well as a solder iron, components, and the occasional wood working. With that in mind I set out to find what items on the market are the easiest to work with and make useful.
TP-Link Wi-Fi Plug Setup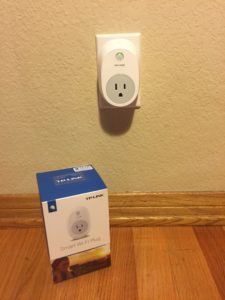 Out of the box the first thing I noticed was the bulkiness of the unit. This isn't a deal breaker but it does eliminate some of the places where the adapter will be good, specifically in outlets behind furniture that I want flush to the wall.
The size also poses a problem anytime there are multiple outlets in use. When placed in my bottom outlet the top one is completely covered. Even when plugged in on top there is not enough room to plug in a second device fully. In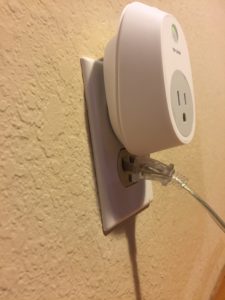 the shown picture I was able to get a connection of the clear plug but it was being forced into an awkward position which is not how I want to leave things.
On the unit there is a button that can be manually pressed. This helps it to pass the test of other things breaking or not having access to voice-control or a smart phone for control.
Downloading the Kasa app was simple and getting the device to pair only took a few minutes, including creating my TP-Link Kasa account. I was able to name the plug and get to turning on and off-my lamp with the simple push of the button. I have not yet figured out how to share access to my account, without supplying the password. For times when friends and family visit, and I want to wow them or just give them control that means that some amount of setup will be necessary or some type of universal remote or other control system. Otherwise here are the things lacking from the TP-Link Wifi Plug adapter
Desktop control of Kasa, so I can turn things on from my laptop
User settings for guests (or kids) to limit access
A smaller footprint so that both outlets are accessible
Lower price
Eventually I would like to be able to group not only the devices, which was possible in the app, but vary the control settings. Visitors should be able get access to guest bedroom, coffee machine etc. but can not setup new schedules or start messing with my bedroom lights. This may be possible thanks to the pairing with Alexa, which also only took a minute.
Within the Alexa App I had to rename the group, it was not immediately pulled in from the TP-Link for voice control. Still it was possible and Alexa also has a desktop version which is great since it provides more control while sitting at a laptop.
The best part is that once the unit is paired and setup I can unplug it and move it to another outlet. This means allows for a simple on/off function of pretty much anything for $30. For now that is the baseline I am setting for any binary devices which currently covers lamps, a noise machine for the baby, and a few of my lights in the garage. Anything that requires more than just an on-off is a little bit trickier, that means Coffee Makers (which needs to be loaded and with a pot), alarm clocks (which need resetting), as well as dimmer lights and a fan with multiple settings.
Next up is a TP-Link Switch which has to be hard wired into the house. For the time being have control of the garage lights from my phone at least gives me a way to check on things late night without getting out of bed.