3D Printer Deal – 3D Systems Cube
For those looking for a low cost reliable printer there are a number of systems of varying quality. Instead of looking for a suspect manufacturer one way to get a deal is to find an outdated version of one of the more popular printers. A few years ago 3D Systems discontinued their Cube line of printers, which retailed for around $1000.
Though they are not officially sold anymore 3D Systems still supplies the filament and supplies and there is a limited amount of inventory left at some resellers. These are being sold at a HUGE discount of more than 70%. If you want to but a low cost 3d printer this is one option that is under $300. NewEgg currently has a few in stock.
Experience With A Sub $300 3D Printer
I had the opportunity to work with a Cube a few years ago. At the time it was an "okay" printer, but a big part of that feeling was the cost. For $1000 it was competing with a lot of great systems, but now that it is $299 (or less) it might be one of the best low cost printers available for beginners.
The design is aesthetically pleasing and the footprint makes it available for desktop printing. Setup of this is better than other 3d printers that sell for under $500, most of which are kits that require assembly.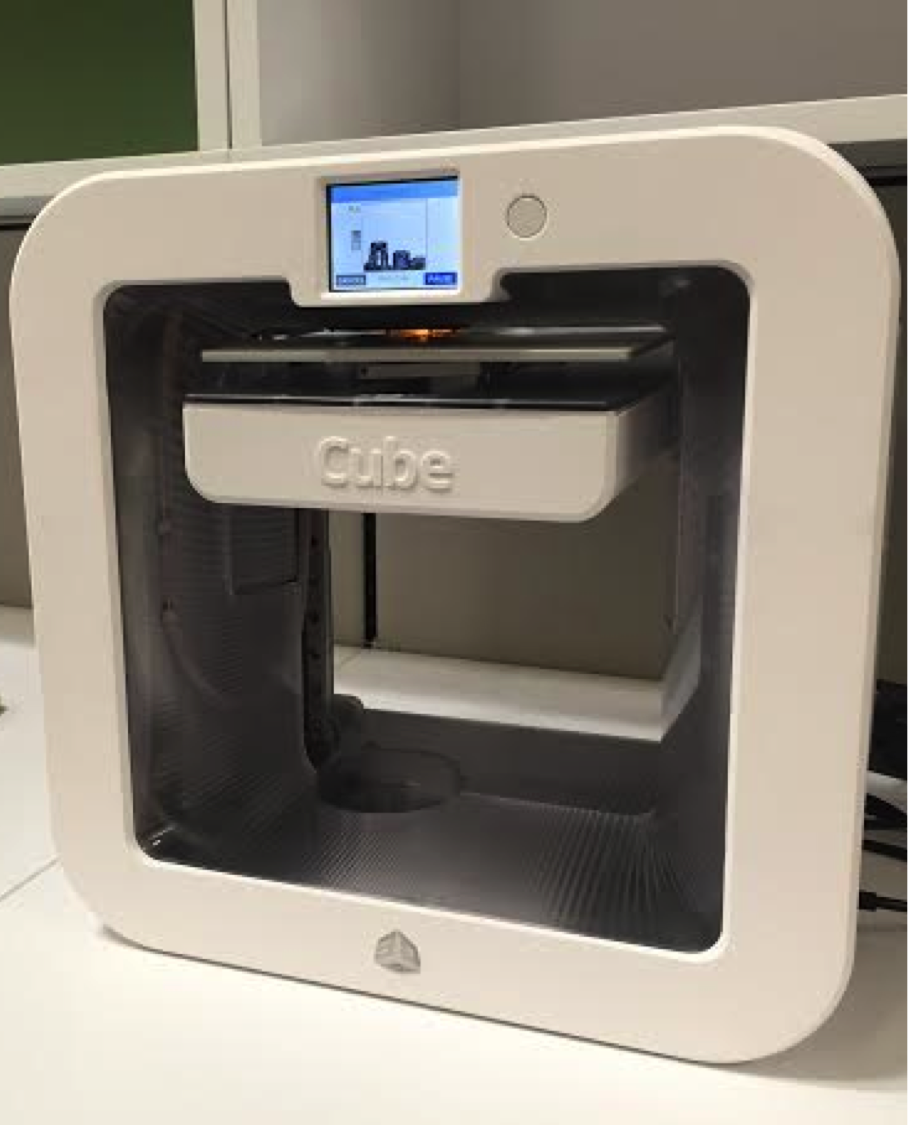 The software to run the cube is also very easy to work with. I ran a number of tests off of my phone, which required a free download of the software. This let me navigate to a large number of ready to print files. Some were not supported by the Cube (the app services all of 3D Systems designs) but others were pretty easy to grab.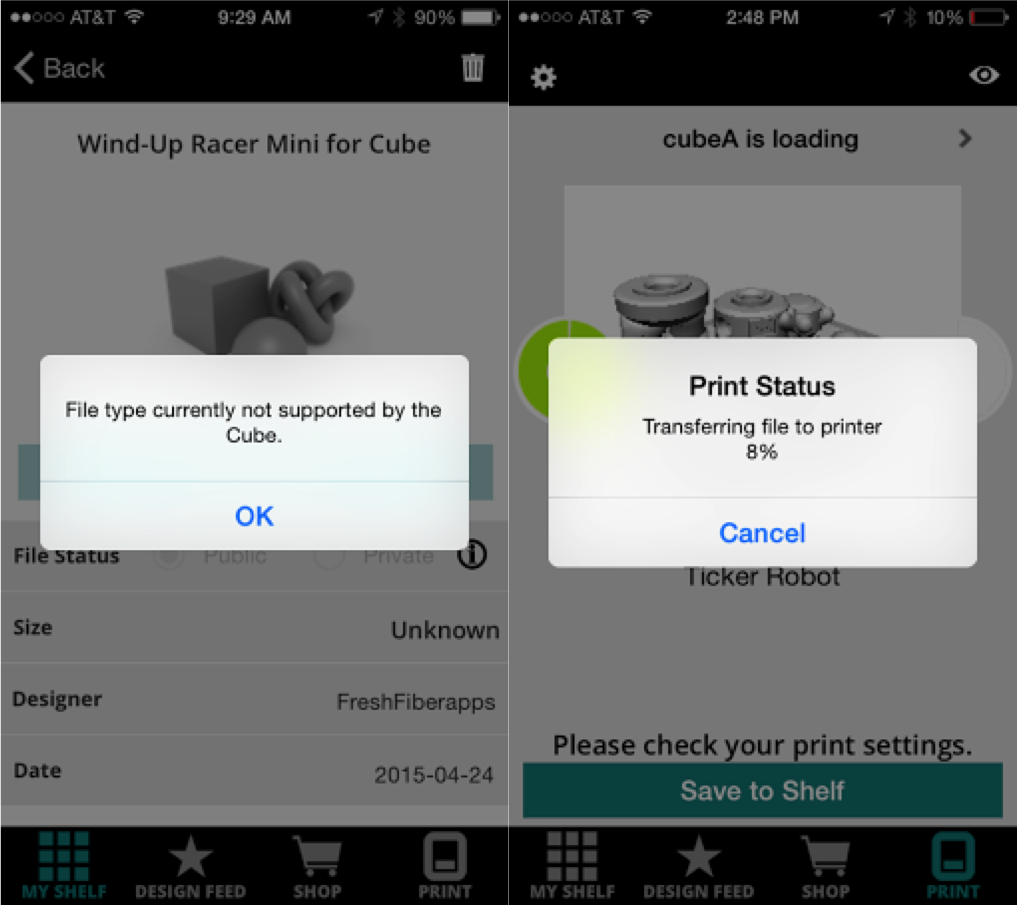 It's worth noting that the transfer to the printer took a bit of time. The upside of this is that you do not need a constant connection to execute a print, so there is no need to dedicate a computer to running things. Again this helps justify the low cost of things.
One of the downsides of using a discountinued device is the lack of support or materials. There are two relevant items to consider here. First is the cartridge, which originally could be recycled and sent back to 3d systems for refill. It is possible to refill it on your own though. For hobbisyist willing to tinker with the machine again this means you get a reliable print bed, nozzle, and feeder but you may need to break a few things open and reuse cartridges. Since there is little risk of ruining a warranty it does become a much better option. Even so, 3D Systems and a number of suppliers still sell the cartridges in a variety of colors.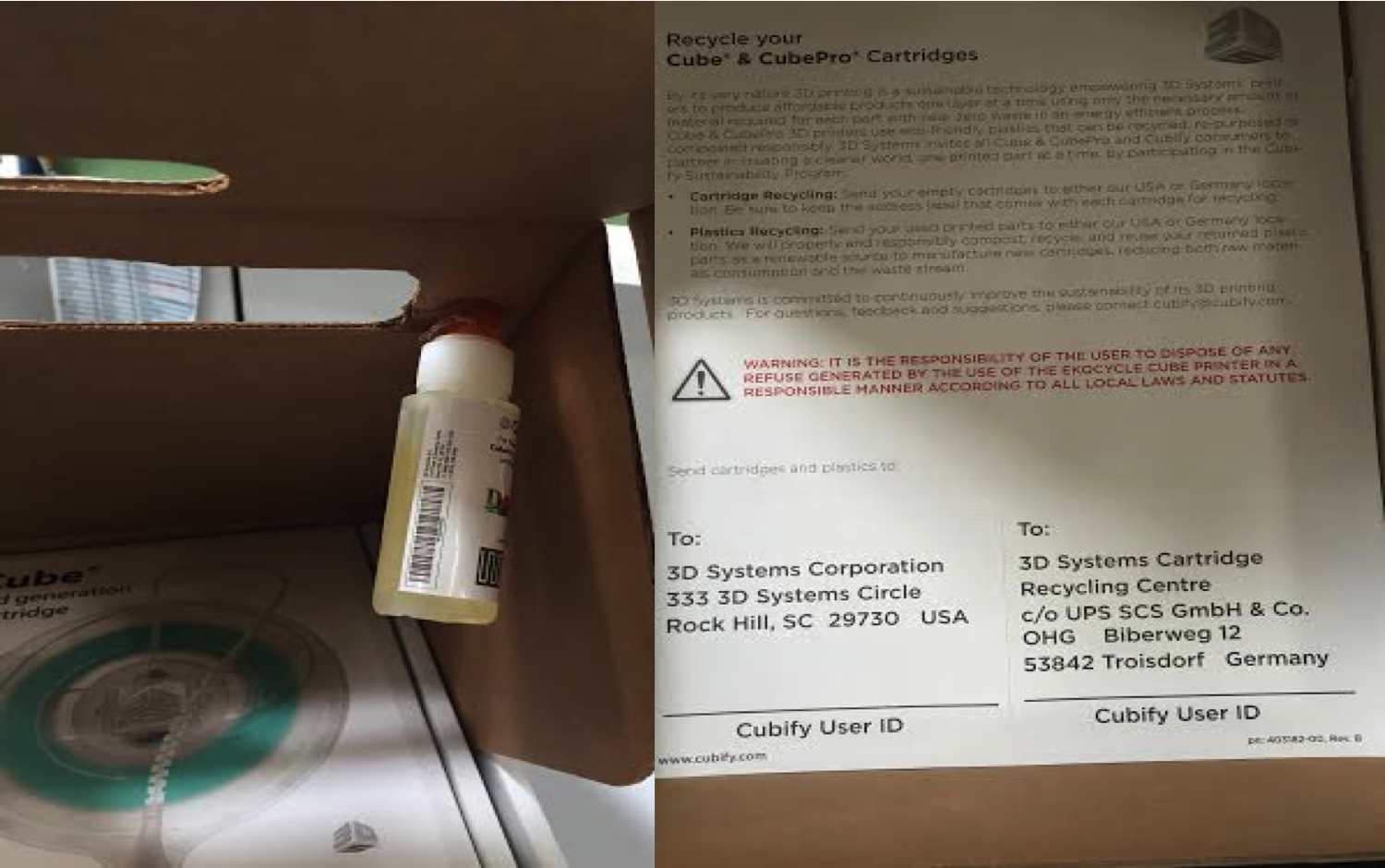 The only other refill in the box was some glue to help pieces stick to the print bed. The bed is less complex that other systems, it's not heated, but the glue is critical. Again here the workaround of using painters tape or a simple off-the shelf glue does the trick. In my unboxing experience the glue case had exploded which ruined the applicator tip. You can see it stuck to the box in the image. I only ever used a simple shop blue and it worked fine.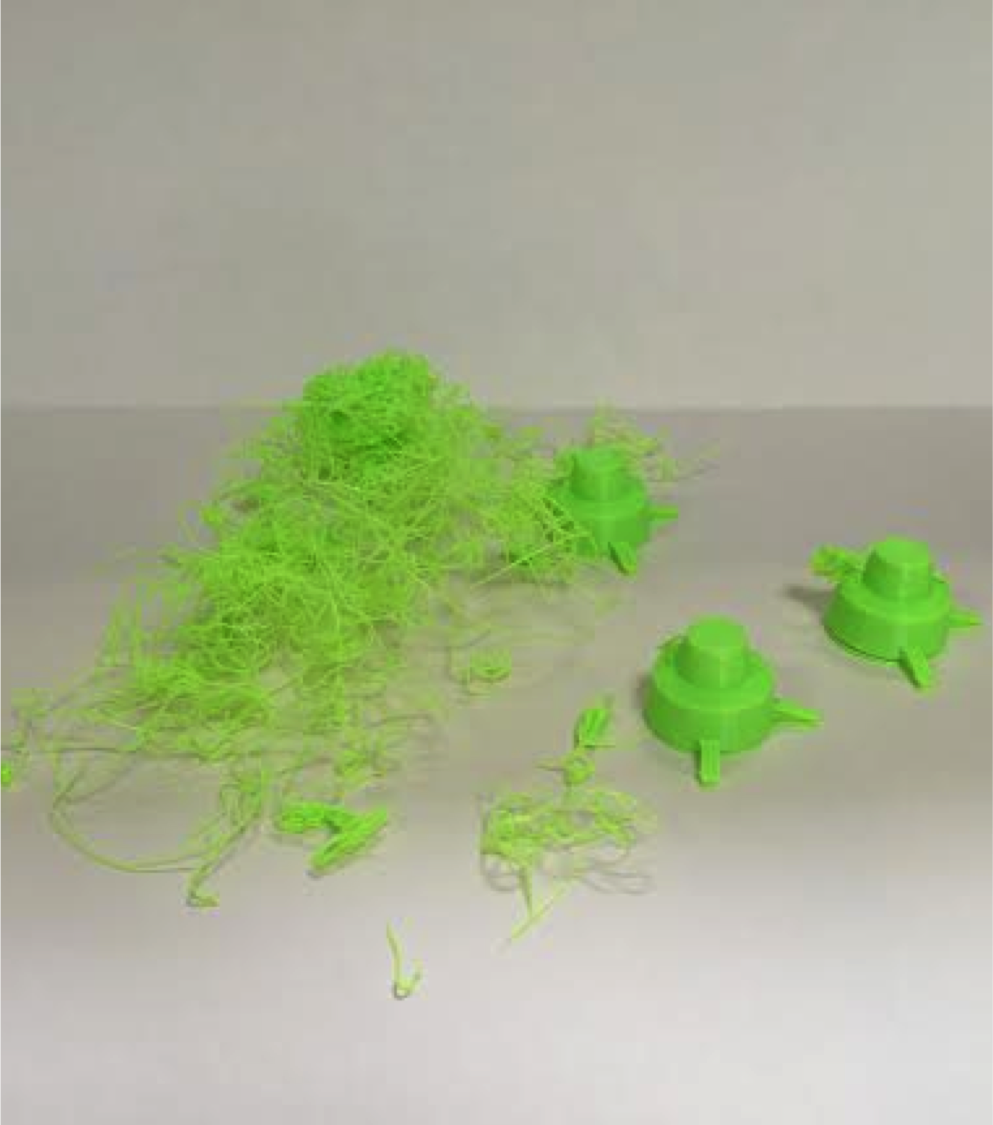 Even with all this prep the Cube makes it easy to make mistakes and learn about printing. Above is supposed to be a Star Wars AT-AT machine. The file was able to be downloaded but did not have any support structure so instead of making a cool toy I got a pile of spaghetti.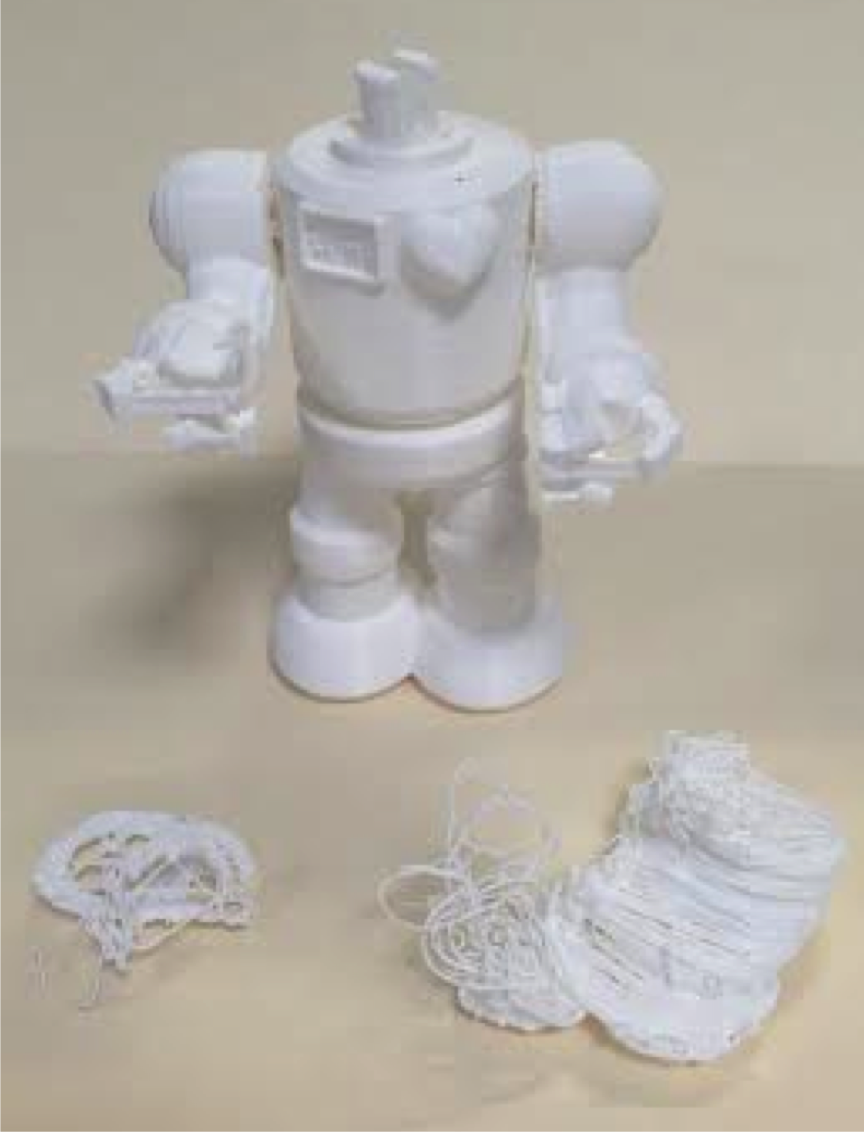 Other prints went much better. Here is a look at a robot. Granted his head did not come out nicely but the rest of the body worked fine and since there were a number of action figures laying around when I did this making a head was easy. If you are working with kids, or new entrants to 3d printing, these types of files are easy and fun. Printing the robot took a total of 4 hours but at least 1 hour of that included people staring at the bed whizzing back and forth, just eager to get a glimpse of this future technology.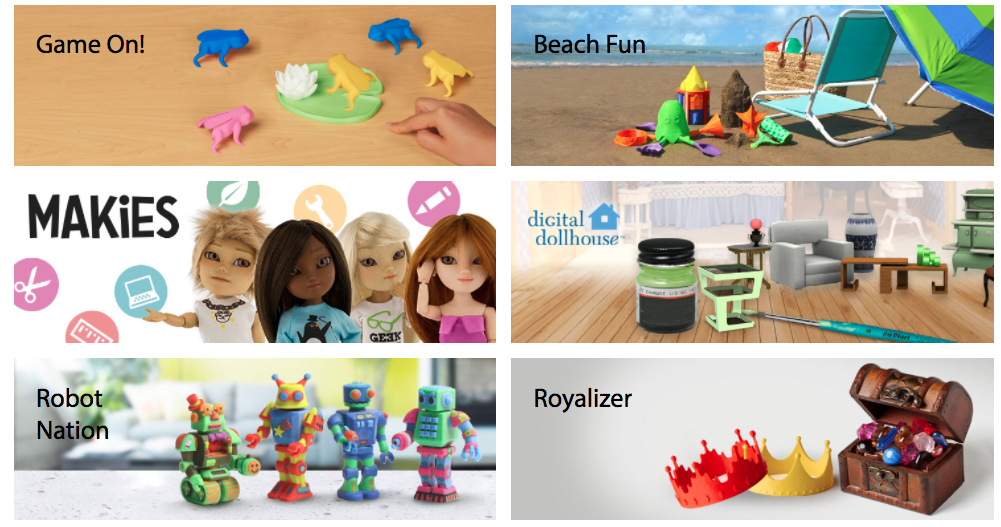 The above image is directly from 3D Systems website showing a number of the designs that are available for free download. Take a look through and if they are intriguing enough you may consider this discontinued printer as a great entry into the space.