Onshape vs. Solidworks Certification
One way to show your experience as a CAD designer is to pick up a formal certification like the Certified Solidworks Professional. This exam, administered and updated by a team at Dassault Systemes, is designed to show knowledge of modeling and design practices required to use the popular Solidworks software package. But if you do not have access to Solidworks, how can you pass the exam? That's easy, use something else.
At roughly $5000 per license, getting access to the software can be difficult for those just starting out or who do not have access through their employer. One alternative is to use the competitive Onshape system.
Onshape offers a cloud-based tool with a free account. That means that pretty much anyone with a web browser can get access to the CAD tools they need. Some of the nuances of the software are different, but partially because the same people that founded Solidworks founded Onshape, there are a lot of similarities.
Studying For the CSWP
Where to begin when using Onshape to study for the CSWP. Thankfully there are a number of existing sample exams that have been made available over the years.
Sample Exams for practicing modeling in Onshape
CSWP CORE 2008 exam PDF and the answers and walkthrough from 3dNPD
CSWP practice exams & The parts Modeled in Onshape and summarized on 3dNPD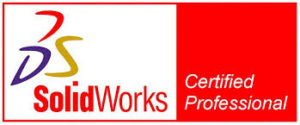 If you are planning to take the real exam, and using Onshape to supplement your skills, read up on the nuances of the testing software straight from the source.
Tips for Studying for the CSWP Using Onshape:
Differences in mass properties make an impact.
Help files make studying easier
Reddit /cad forum has weekly challenges