ExOne Metal Additive Manufacturing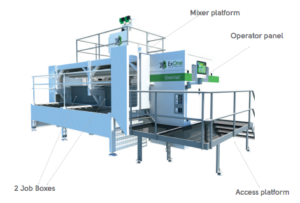 Getting past the idea stage and into a working prototype is the key to moving any great new product forward. Additive manufacturing, or 3D printing, can help quickly make real parts but often less expensive printers are limited by the materials they can produce things in which is usually limited to low temperature melting plastics. When it comes time to make metal parts a step up in the manufacturing is required. Enter ExOne printers.
Stainless Steel, Ceramics, Iron alloys, Tungsten, all of these materials are available from the industrial grade machines. Getting access to such capabilities does not come cheap though, the guys at Engineering.com report that the M-Flex system can set you back $450,000 for the machine alone.  Add in the cost of a skilled operator, the materials, and maintenance and it's half-a-million dollars to get setup. That might explain why they only mange to sell 20-30 units each year.
ExOne does state they have service centers around the world that will do on demand jobs though, turning them into something of a contract manufacturer. Revenues from such services account for around 75% of their total sales, but with this service touted as a "try before you buy" offering there is significant upside available.
The company is focused on expanding materials offered for their platform, recently announcing a multi-year partnership with the US DOD to continue developing new silicon carbide opportunities. Along with strong indicators in the rest of their business ExOne has recently seen a surge in their stock price, though it is still lagging significantly from past years when a run up in 3D printing stocks sent it soaring to 4x their current trading price. Below a sample of their process can be seen in a video.