The 3Doodler and 13 Great "Prints"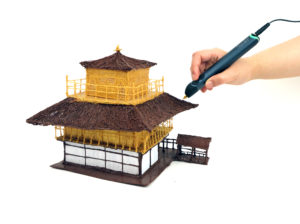 The 3Doodler is a great handheld additive manufacturing device, though it's classification as a 3D printer may be questionable. It does not print in an automated way, the material that it dispenses forms designs thanks to the creativity and skill of the user. Originally launched via a Kickstarter campaign the first designs with the pen like device were rough. As the new generation of the device has improved the quality, and users have gotten better at executing, the results of the work have continued to look better and better.
The handheld device works similarly to a hot glue gun. The pen like extruder heats individual rods of plastic to their melting point then pushes them through a small nozzle.
For an average user it may be difficult to create world class designs with the 3Doodler. But looking at their social media feed it is clear that there are a lot of above average designers out there. With only $99 dollars, and a few more dollars for some refills of various colors, here are some of the cool designs that show up regularly on twitter.
A Colorful Rickshaw with 3Doodler
3Doodler Create 3D Printing Pen – Let your doodles jump off the page. https://t.co/MKjYtEn6Yz pic.twitter.com/905uXtpaDo

— thinkgeekspam (@thinkgeekspam) August 8, 2016
2. An Andy Warhol with 3Doodler
#HappyBirthday today to the master of #PopArt and lover of @Campbells soups #AndyWarhol#3Doodler #WhatWillYouCreate pic.twitter.com/8uMWcd2nD6

— 3Doodler (@3Doodler) August 6, 2016
3. The Eifle Tower with 3Doodler
.@3Doodler's CEO on what comes next after Kickstarter: https://t.co/yONwwv4znd #LinksWeLike via @TechCrunch pic.twitter.com/ALjpcyHQHu

— Kickstarter (@kickstarter) August 3, 2016
4. A Desktop Trebuchet with 3Doodler
Because everyone needs a desktop #catapult ?? #3doodler … I need more practice- how do you #doodle ? pic.twitter.com/XQ5CTcoJuq

— Nicole Robinson (@NRobinson_teach) July 6, 2016
5. A Bouquet of Flowers with 3Doodler
Projects made with the #3Doodler. #ISTE2016 pic.twitter.com/cY3zRjqBpo

— Kate Adams (@kate5280) June 29, 2016
6. A Face Sculpture with 3Doodler
SK artist uses #3Doodler to take her art from hiding to expressing https://t.co/kKwuBPMZPl #WhatWillYouCreate #Blog pic.twitter.com/ZwOh5R6L7I

— 3Doodler (@3Doodler) June 23, 2016
7. Hello Kitty with 3Doodler
Una Kitty Chan hecha con la 3Doodler.https://t.co/Ha18fPZxL3#HolaNihon #KittyChan #3Doodler pic.twitter.com/CfiEXZNbZH

— HolaNihon (@HolaNihon) June 12, 2016
8. Some Sunnies with 3Doodler
That's metaprinting 🙂
My daughter just made a pair of 3D glasses with her 3D printer.#3doodler pic.twitter.com/uHHLU0W4Pq

— Runge (@guidhouse) May 31, 2016
9. A Ridiculous IronMan with 3Doodler
Have you watched Captain America:Civil War yet?
3Doodled #IronMan #3Doodler #TechToys #DHA #CaptainAmerica #CivilWar pic.twitter.com/0wC1WQpWlI

— TechToys (@techtoyspk) May 27, 2016
10. Lego Accessories with 3Doodler
Here is a fun, and possibly helpful, use for a #3Doodler: custom #LEGO hair or helmets pieces. pic.twitter.com/QrbOOnW6kU

— Fraser McDonald (@FraserMcDonald) May 6, 2016
11. Paper Airplane Replicas with 3Doodler
Trophies for origami airplane contest (best glider, most twists, most flips) #3doodler #whatwillyoucreate @3Doodler pic.twitter.com/vDcnM2pDM1

— Anna Kelly (@annavkelly) May 2, 2016
12. A Freaking Dragon with 3Doodler
#3doodler #3doodleoff I couldn't decide which picture is best… pic.twitter.com/E6q0dKRfqj

— Anna Kelly (@annavkelly) April 23, 2016
13. A Pile of Plastic with 3Doodler
Let's be honest. This is what most folks will make right out of the box. But everything above shows there is potential to turn this pile into something amazing.
Using painter's tape makes all the difference #3Doodler pic.twitter.com/jElBESBrcA

— Natalie K ? (@bookslover) April 16, 2016