Solidworks Partner Programs
Solidworks, as a product, is likely to familiar to anyone who has read this far. The eco-system for Solidworks has been ingrained in the business since launching in 1995, when they began building a network of VARs (Value added resellers) who were free to work not only with Solidworks but any other software that their end customers needed. Over the years this setup has expanded into a network of additional products, many of which are still pushed through those same resellers. When I contacted Craig Therrien – Sr. Product Manager for Solidworks DS and
Nick Iwaskow, Director of the Solidworks Partner Program, they were happy to point out how large that network is. By their numbers there are over 700 Solidworks partners, each of which lands in a different stage of development or partnership. The three partner types are
Research Associates (approx. 280 total) – These are companies developing a version of a product that is designed to be compatible with Solidworks. Once accepted into program, they get a moderate level of IP and access to help them with that compatibility. The goal is to have a product available within 2 years.
Solution (380 total). Once the research associates publish their product to market, they graduate to the Solution Partner. Many of these partners are on display each year at Solidworks World, the annual conference of users and partners that draws more than 5000 attendees.
Gold Partner (over 60 certified products) – Fully integrated into Solidworks, trying for one screen setup.
Iwaskow expressed why there is a need for such a broad network, "We can't be expert in everything, we're good at parts, assemblies, and drawings and now simulations." Part of that expertise started out as outside partners and over the years have even become fully integrated features. "Cosmos (The Simulation tool) started as a third party product, it became a gold partner, then it got acquired and rolled into the core product" Therrin shared "Solidworks Composer started out as a partner too". But not all of the partner tools are integral to Solidworks some are customer specific needs. According to Therrin, Oakley, a long time Solidworks Customer, designs all there features in the software but wants to determine how light passes through all the parts they design. That is an entirely different set of solving equations, Therrin pointed out, "We have a partner Optis and Bro Research who deals with that level of detail that is truly complementary".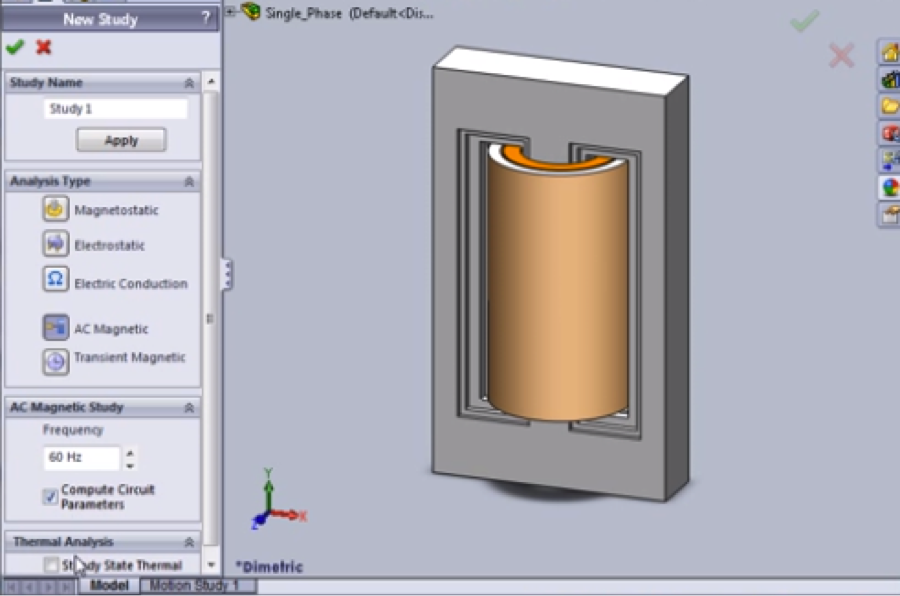 EMWorks Add-In integrated into Solidworks allows for Electromagnetic modeling and studies.
Another fun example of a partner expanding the core MCAD technology is ElectroMagnetic Works. The use case described to me was around a remote control designer, though they can design the circuitry and enclosure in Solidworks that is not the complete design process. Functionally, if you have a remote and you want to analyze how far away can I sit on my couch and still have that remote work. "That is science we don't have inside of Solidworks." Iwaskow noted.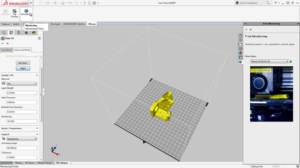 The Sindoh add-in for Solidworks pairs directly to a 3D printer and even pulls in a live video feed form the printer to show the true progress of a design as it is being fabricated.
Many of the partners are integrated directly into the Solidworks window but one of the fun directions that partners are going is in full-fledged integration that nearly eliminates the need to access Solidworks. As Craig states "Customer facing build to order systems are a very exciting space". The API system allows partners to add a web front end and a customer can see a graphical depiction of what they want. This allows partners to "run customer orders as if they are production orders" as Therrin suggested. Already integrated into the system are getting close to this type of pushbutton manufacturing. ERapid handles CNC machining and sheet metal fabrication while ProtoLabs (who can grab file types form all three of the noted MCAD packages) handles a broad array of plastic components.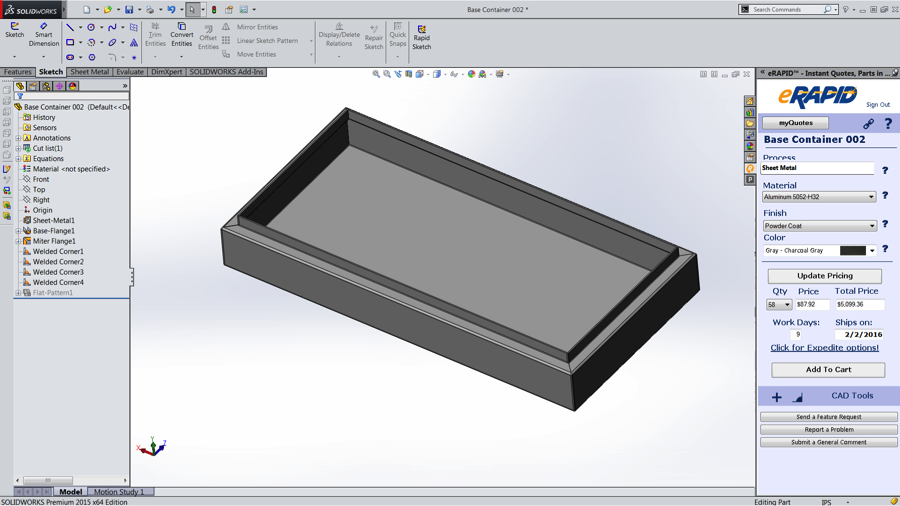 eRapid quoting built directly into the Solidworks design window.
There is even a network of suppliers lined up around Solidworks, called the MySolidworks Manufacturing network. Nick Therrin again, " With launch of 2016, we highlighted a design for manufacturing ecosystem… Solidworks can take you from conceptual design to simulation and then to Cam for production, you want easy access and you want the model to update all the way through the process". These types of integrations are key to lowering the complexity of getting to production, though the entry cost of a Solidworks license (which starts around $3500 for an individual) is still a limiting factor.
Read more about the growing eco-system of CAD system add-ons.