Fusion 360 and the Autodesk Universe
The Fusion 360 eco-system is a tough one to get a handle on. For starters the Autodesk team is focused on proving that they have a "Product Integration Platform". Kyle Maxley covered this for Engineering.com recently, showcasing how the Autodesk team is already out ahead of things, thinking about the MCAD package as simply a cog in the machine that turns ideas into products. That is not to say their eco-system is small. Though the app store dedicated to Fusion 360 only has a few dozen add-ins, it actually shows up as just one of 19 categories in the larger Autodesk App store. Add to that the numerous third party compatible products, physical or digital that use the Autodesk platform and it is easy to understand how broad the network goes.

From Construction to Simulation to Document Publishing the Autodesk umbrella covers a huge array of compatible tools.
In comparison to the SimScale analysis for Onshape, the Autodesk team noted that they already do rendering in the cloud. When I spoke with Bankim Charegaonkar, Product Manager for Autodesk APIs and Daniel Graham, Sr. Product Manager at Autodesk Fusion that also were excited to point out the development of the Autodesk Forge Initiative. To elaborate Graham highlighted what Fusion 360 already has "Identify, Storage, Visualization, Collaboration are all built in." The MCAD system underlying Fusion 360 is just a platform that can be shared across tools. "We wanted to open up this platform, and let someone build something like fusion." You might think that the huge number of applications Autodesk offers, simulation, publishing, visualization, would limit their desire to have external partners but Forge implies otherwise.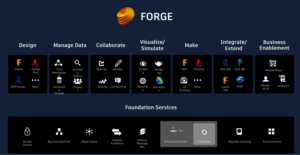 The Forge Initiative ecosystem ties together all of the data needed to turn an idea into a product, at least that is what Autodesk is hoping.
Forge is also Autodesk putting their money where it counts; one of the wings of the initiative is an investment fund. Already there are thousands of users who may be eligible for investment dollars, which is committed to be $100M+. The Autodesk app store is linked through an Autodesk ID for is free to join but users must submit for clearance against malicious data before their applications show up in the app store. Even for large corporations this is an enticing offer to have Autodesk help build a customized platform. On their part it ensures that the data platform is built on the Autodesk platform, giving them a much stickier experience and ability to keep their customers even as the software market gets more fragmented with SaaS cloud tools.
The goal of this, as Bankim stated is "keeping the data at the center, and portable" but still make that data useful to the end result. So how can this be useable? Daniel and Bankim suggested applications like what McMaster Carr is working on. Already the supplier of components has opened their entire library so that users can easily import items to be used in assemblies. Those files have the part number included, but imagine an integrated system that will connect that meta data to a cart and purchase, making it infinitely easier for purchasing and inventory systems to integrate with engineering and design. McMaster Carr is working on a system along these lines.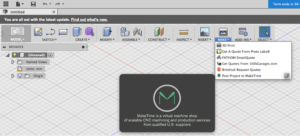 The "Make" button within Fusion 360 integrates a number of quoting and secondary systems intended to move a design into the physical world via a series of manufacturing suppliers.
Looking at some of the other partners, like MakeTime and ProtoLabs, already you can see some of the integrated features. MakeTime is a machine shop of sorts that will allow you to create a part from a network of suppliers. Protolabs is similar; they allow for individual prototypes or short run production and are popular for their ability to provide an immediate quote when provided the right file time. Fusion 360 has these features built in such that you can initiate a quote from directly within the software. This ability to take design features and immediately determine how to create them physically is critical to the goal of integrating a complete product creation platform.
Read more about the growing eco-system of CAD system add-ons.