The Battle of MCAD: Solidworks vs. Onshape vs. Fusion 360
Designing new products is tough. When trying to convert a napkin sketch into a viable product there are a number of elements that must be considered which can require tons of different tools and software. For engineers one of the primary tools is a mechanical CAD package. In my last article, The Battle of MCAD, I took a look at a few of the newer CAD software, Onshape and Fusion 360, but limiting a review to just the design capabilities leaves a lot of things uncovered. One commenter thought this a large oversight, that the very idea of using a Mac OS was flawed, as it limited access to finite element analysis (FEA) and other tools that are more common to PCs.
I disagree with the argument against a platform or doing engineering work on the Mac OS, Onshape runs entirely in a browser and Fusion 360 supports a native Mac OS with a host of add-ons. I will however acknowledge that the MCAD systems are only a part of a larger software eco-system. The MCAD systems discussed are great at building geometry and to a lesser extent doing simulations, but what about the rest of the development process. Add-ins help expand the design data to be used across the product development process and span uses including everything from simulating the RF effect of a remote control to creating renderings for use in press releases. So let's have a look at what add-ons are offered and what potential there is to expand the core functionality and build up the MCAD data as a platform for getting to market.
Onshape's Growing Community of Partners
Onshape is the youngest of the MCAD system's we are looking at but eve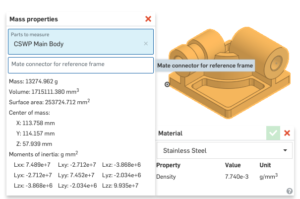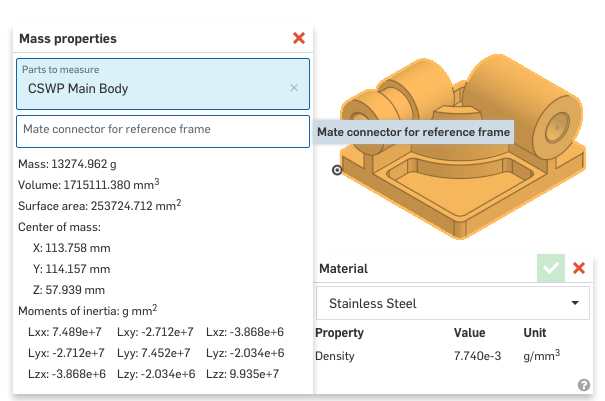 n at their initial launch they already had 27 plugins available and that list has expanded since then. I spoke with Darren Henry, Director or Marketing for Onshape, and Cody Armstrong, regarding the growing eco-system of Onshape Add-ons and the nuances of working with partners to take advantage of their cloud based system.
Read More about the growing Onshape Network.
Fusion 360 and the Autodesk Universe
The Fusion 360 eco-system is a tough one to get a handle on. For starters the Autodesk team is focused on proving that they have a "Product Integration Platform". Kyle Maxley covered this for Engineering.com recently, showcasing how the Autodesk team is already out ahead of things, thinking about the MCAD package as simply a cog in the machine that turns ideas into products. That is not to say their eco-system is small.
Read More about the growing Fusion 360 Network.
Solidworks Partner Programs
Solidworks, as a product, is likely to familiar to anyone who has read this far. The eco-system for Solidworks has been ingrained in the business since launching in 1995, when they began building a network of VARs (Value added resellers) who were free to work not only with Solidworks but any other software that their end customers needed. Over the years this setup has expanded into a network of additional products, many of which are still pushed through those same resellers.
Read More about the established network of Solidworks Partners.
You can also get the 30 tips in 30 days series which is free. This tips & tricks learning series delivers answers to the 30 most popular SOLIDWORKS questions to your inbox.
The MCAD Ecosystem Summary
Solidworks and Autodesk have both been around for years and it is no surprise that the network of add-on products for them is larger than Onshape. At the end of the day each MCAD system still offers a similar value, a way to create design data that can be used to visualize and simulate a part design before putting making it in the real world. That last piece, making it in the real world, is key though as each different product and manufacturing process has a unique set of challenges and nuances that can benefit from expertise that is not core to any of the MCAD systems.
In my estimation the network of interlinked suppliers and partners that both Solidworks and Autodesk have will keep these programs running for a long time. Still the data created by MCAD systems is beginning to become something of a commodity. What used to cost thousands of dollars to access and require even more complex hardware to operate is now more accessible to all. As new designers graduate, think about new ways to interact and influence data, and start companies based on those ideas the ability to onboard to an MCAD package will be important. This is where Onshape currently has the upper hand but if Autodesk, Solidworks and others can continue to innovate they have a chance to make their networks of partners and add-ons so powerful that it will be hard to ignore.
Working Across Platforms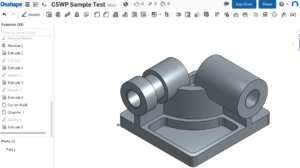 All of this being said it is possible to combine different tools across vendors and suppliers. Recently we even published an article about how to use Onshape to pass a Solidworks Certification test, the CSWP.
Do you need to go deeper with Onshape, SOLIDWORKS, or Fusion 360? Start a Free SolidProfessor Membership with video tutorials for SOLIDWORKS, Autodesk Fusion 360, OnShape, and more.